who we are
Walden Peer Counseling was founded in 1975 and is the oldest and longest-running peer counseling group at Yale, as well as one of oldest undergraduate peer counseling organizations in the United States. It serves the Yale undergraduate community as an anonymous and confidential hotline and walk-in service.
Walden counselors are Yale undergraduates who have completed at least one year at Yale. We are brought together by a talent for listening closely without judgment and a desire to help our peers. We only recruit counselors who are willing to make Walden their top priority, complete rigorous training in the fall of each academic year, and make the necessary time commitment to our services. Above all, we protect the confidentiality of our calls and anonymity of our callers.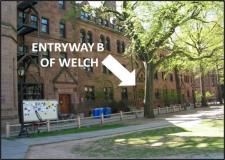 where we are
The Walden office is located on Old Campus in the basement of Welch (room A-05), accessible through entryway B. We are available to speak on the hotline at (203) 432-8255 from 8pm-8am every night classes are in session. Our office is also open for walk-ins from 8pm-1am Sunday through Thursday nights.
the walden philosophy 
Because Walden counselors are undergraduate students, we are not qualified to make diagnoses or provide directive advice. We can offer empathy and support, a listening ear, and a place for reflection. We are here to listen, to explore feelings, to help sort out issues and uncertainties…or just to talk.
If you are seeking additional help, we also provide information about on- and off-campus resources that provide specialized and ongoing care. Our "Resources" page includes a list of some of these resources.
the walden name  
Walden is a book written by Henry David Thoreau, a noted transcendentalist of the 19th century. The work is a personal declaration of
independence, a social experiment, a voyage of spiritual discovery, and a manual for self-reliance. Published in 1854, it details Thoreau's experiences living for two years in a cabin he built near Walden Pond, outside of Concord, Massachusetts.
For Thoreau, Walden was a retreat from society, a peaceful and isolated space where he could gain an objective understanding of the world around him. In a similar vein, Walden Peer Counseling aims to provide a respite for Yalies by acting as a nonjudgmental space where they may reflect upon feelings and experiences and consider helpful courses of action.